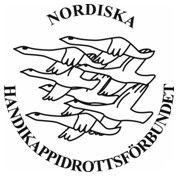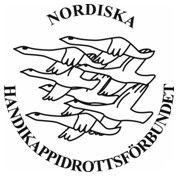 Nordic Sports Association for the disabled ľ Nord-HIF
For decades cooperation in disabled sports between the Nordic countries has been intimate and led to many good things in sports and various social and economical subjects. Thousands of athletes in the Nordic countries have had unforgettable memories based on communication through sports and the friendships they have created.
When sports for disabled in Scandinavia grew stronger after 1960 it came as natural that the Nordic countries got more involved with each other. Sweden, Norway and Denmark laid the tracks and soon Finland, Iceland and Faroe-Islands joined.
At first the partnership was in the form of committees from each country who met yearly to strengthen the foundation of the cooperation. The goal was to establish a formal Nordic partnership between the Sports Associations for the disabled in the Nordic countries. This work took several years and quite some difficulties were overpowered. It came to light that various groups of disabled were competing between themselves on home ground for funding. As a result many were skeptical about what would happen when all these groups would be merged into one common Nordic Sports Association for the disabled. This was the issue of many committee meetings without ever leading to a conclusion.
Sigur­ur Magn˙sson, the former chairman of The Sports Association for disabled in Iceland and Secretary General of The Icelandic IOC, was a representative in the Nordic Committee on behalf of The Icelandic IOC. Since the meetings did not get any results and no Nordic Sports Association for the disabled was founded Sigur­ur took matters in his hands and called a meeting in Iceland in the year 1976. There was a soul purpose of the meeting, to found a Nordic Sports Association for the disabled.
All too much pleasure the meeting was a success. The Nordic Sports Association for the disabled (known as Nord-HIF) was founded in the beginning of September in the year 1976.
As a token of appreciation for Iceland┤s effort in the matter are all Nord-HIF medals imprinted with ancient Icelandic font. The board of Nord-HIF is appointed by chairman┤s from all Nordic countries and each country shall host Nord-HIF offices for three years time.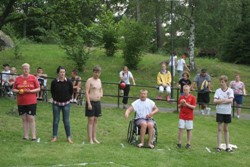 The tasks of Nord-HIF:
Ľ To host Nordic Championships
Ľ The Nordic children games (Nordiska Idrettsleke F÷r Unga -NIFU)
Ľ Nordic Coach conference
Ľ Nordic Education conference
Ľ To introduce the Nordic policy in International areas
Ľ To influence the development of sports for disabled in various sport events.

With the founding of Nord-HIF an important and positive step was taken in the field of Nordic Cultural Cooperation. All who have experienced the influence of Nord-HIF will agree to this statement for Nordic Cooperation regarding Sports has taken a huge leap forward athletes and others to much joy.
Links:
Denmark ľ www.dhif.dk
Faroe Islands ľ www.isb.fo
Finland - www.sport.fi/paralympiakomitea and/or www.siu.fi
Iceland ľ www.ifsport.is
Norway - www.idrett.no/saerforbund
Sweden - www.shif.se

═■rˇttasamband fatla­ra ß Nor­url÷ndum ľ Nord-HIF
Samstarf Nor­urlandanna ß svi­ Ý■rˇtta hefur um ßratuga skei­ veri­ mj÷g nßi­ og leitt margt gott af sÚr, jafnt Ý Ý■rˇttunum sjßlfum sem og Ý řmsum fÚlagslegum og fjßrhagslegum vi­fangsefnum. Tug■˙sundir Ý■rˇttafˇlks ß Nor­url÷ndunum eiga ˇgleymanlegar edurminningar sem byggjast ß Ý■rˇttasamskiptum og vinßttutengslum sem af ■eim hafa leitt.
Ůegar Ý■rˇttastarfi Fatla­ra ß Nor­url÷ndum fˇr a­ vaxa fiskur um hrygg eftir 1960 kom ■a­ eins og af sjßfu sÚr a­ samskipti frŠnd■jˇ­anna jukust ß ■vÝ svi­i. ═ SvÝ■jˇ­, Noregi og Danm÷rku vour menn nokku­ ß undan ÷­rum en fljˇtlega bŠttust Finnar, ═slendingar og FŠreyingar Ý hˇpinn.
═ fyrstu var um a­ rŠ­a samstarf nefnda frß hverju landi sem hittust ßrlega til a­ finna samstarfinu grundv÷ll. Markmi­i­ var a­ koma ß formlegu norrŠnu starfi Ý■rˇttasambands Fatla­ra ■ar sem allir hˇpar Šttu hlut a­ mßli. Ůessi ■rˇun tˇk nokkur ßr og Ý ljˇs koma a­ řmsa erfi­leika ■urfti a­ yfirstÝga. Ůa­ sřndi sig m.a.a­ hinir řmsu hˇpar fatla­ra og hagsmunafÚl÷g ■eirra ßttu Ý mikilli samkeppni t.d. um fjßrmagn heima fyrir. Margir settu sig ■vÝ Ý nokkara varnarst÷­u gagnvart ■vÝ sem gerast myndi ■egar ÷llum ■essum mismunandi hˇpum yr­i steypt saman Ý eitt sameiginlegt ═■rˇttasamband fyrir ÷ll Nor­url÷ndin. Um ■etta var fjalla­ Ýtreka­ ß sameiginlegum nefndarfundum ßn ■ess a­ ■a­ leiddi til endnlegrar ni­urs÷­u.
Sigur­ur Magn˙sson, fyrrum forma­ur ═F og framkvŠmdastjˇri ═S═ var fulltr˙i ═S═ Ý nefndarstarfinu Ý nokkur ßr. ═ ljˇsi ■essa a­ fundir eftir fundi endu­u ßn ■ess a­ tekin vŠri endanlega afsta­a til stofnunar formlegs Ý■rˇttasamands fatla­ra bau­ Sigur­ur til fundar ß ═slandi 1976 ■ar sem tilgangur ■ess fundar vŠri skřr: Stofnun norrŠns Ý■rˇttasambands fatla­ra. Íllum til mikillar ßnŠgju gengu hin gˇ­u ßform eftir og ═■rˇttasaband Fatla­ra ß Nor­url÷ndum stofna­ Ý ReykjavÝk Ý byrjun september 1976. ═ ■akklŠtisskyni vi­ ═slendinga fyrir a­ hafa reki­ smi­sh÷ggi­ ß stofnun sambandsins eru allir ver­launapeningar sem Nord-HIF veitir ß mˇtum sÝnum eru ßrita­ir ß Ýslensku me­ fornu Ýslensku letri.
Stjˇrn Nord-HIF er skipu­ form÷nnum Ý■rˇttasambands fatla­ra Ý hverju landi og fer hvert land me­ formennsku ■rj˙ ßr Ý senn ßsamt ■vÝ a­ reka skrifstofu samtakanna og koma fram fyrir ■eirra h÷nda ß al■jˇ­avettvangi.
Verkefni ß vegum samtakanna eru m.a.:
Ľ Umsjˇn Nor­urlandameistaramˇta
Ľ NorrŠnna barna og unglingamˇta
Ľ NorrŠnna ■jßlfararß­stefna
Ľ NorrŠnna frŠ­slurß­stefna
Ľ Skřra st÷­u og stefnu Nor­urlandanna ß al■jˇ­avettvangi
Ľ Hafa ßhrif ß ■rˇun Ý■rˇtta fatla­ra Ý hinum řmsu Ý■rˇttagreinum
Me­ tilkomu sambandsins var teki­ jßkvŠtt og ■ř­ingarmiki­ frumkvŠ­i ß vettvangi norrŠns menningarsamstarfs. Um ■a­ munu allir sem til ■ekkja vera sammßla enda hefur nŠrrŠnt Ý■rˇttasamstarf margfaldast ß li­num arum Ý■rˇttafˇlki til gagns og gle­i.